Boys Don't Cry
1999
18+, V, L, S, N, M
QC: 16+
Included with a subscription to:
Young female-to-male transgender Brandon Teena (Hilary Swank) leaves his hometown under threat when his ex-girlfriend's brother discovers that he's biologically female. Resettling in the small town of Falls City, Nebraska, Brandon falls for Lana (Chloë Sevigny), an aspiring singer, and begins to plan for their future together. But when her ex-convict friends, John (Peter Sarsgaard) and Tom (Brendan Sexton III), learn Brandon's secret, things change very quickly.
Drama, Crime, Biography
Maturity Rating
18+ Violence, Language, Sex, Nudity, Mature Themes
QC: 16+ Violence, Langage vulgaire, Sexualité, Nudité, Thèmes pour adultes
Director

Producers

Kimberly Peirce
Jill Footlick
John Hart
Caroline Kaplan
Pamela Koffler
Eva Kolodner
Jon Marcus
Jonathan Sehring
Jeff Sharp
Bradford Simpson
John Sloss
Morton Swinsky
Christine Vachon

Cast

Hilary Swank
Chloë Sevigny
Peter Sarsgaard
Brendan Sexton
Alison Folland
Alicia Goranson
Matt McGrath
Rob Campbell
Jeanetta Arnette
Cheyenne Rushing

Writers

Kimberly Peirce
Andy Bienen

Executive Producers

Caroline Kaplan
Pamela Koffler
Jonathan Sehring
More
Features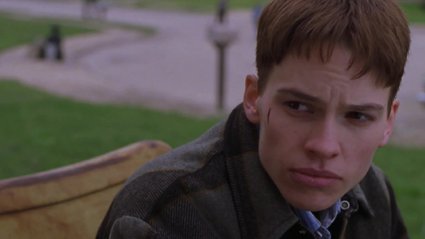 Boys Don't Cry
A young man named Brandon Teena navigates love, life, and being transgender in rural Nebraska.
1h 58m 27s