Bridget Jones: The Edge of Reason
Included with a subscription to:
The sequel to "Bridget Jones's Diary" finds Bridget (Renée Zellweger) working as a TV host and still dating barrister Mark (Colin Firth). But Bridget is jealous of the time Mark spends with a co-worker (Jacinda Barrett), and, despite a vacation meant to smooth things over, ends their relationship. On assignment in Thailand, she has a dalliance with her disreputable ex, Daniel (Hugh Grant), and is temporarily jailed on the false accusation of drug smuggling, before Mark comes to the rescue.
Romance, Comedy
Maturity Rating
14+ Language, Mature Themes
QC: 13+ Langage vulgaire, Thèmes pour adultes
Director

Cast

Renee Zellweger
Colin Firth
Hugh Grant
Gemma Jones
Jim Broadbent
Celia Imrie
Neil Pearson
More
Features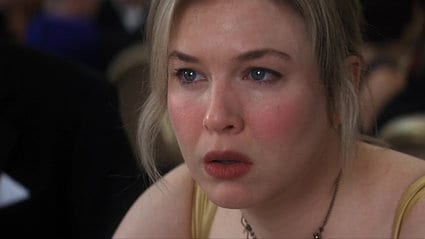 Bridget Jones: The Edge of Reason
Bridget Jones: The Edge of Reason
Bridget is back; this time around she has inadvertently become a drug mule in Thailand.
1h 47m 25s