Dr. Seuss' The Cat in the Hat
Included with a subscription to:
In this live-action film based on the favorite children's tale, the trouble-making Cat in the Hat (Mike Myers) arrives at the home of bored young Sally Walden (Dakota Fanning) and her brother, Conrad (Spencer Breslin), while their mother (Kelly Preston) is out. The family's pet fish (Sean Hayes) objects to the Cat's presence, but that doesn't stop the hat-wearing giant feline from trying to have fun, no matter how much destruction is left in his wake.
Adventure, Comedy, Fantasy, Kids
Maturity Rating
PG Violence
QC: 13+ Violence
Director

Cast

Mike Myers
Dakota Fanning
Alec Baldwin
Kelly Preston
Spencer Breslin
Amy Hill
Sean Hayes
Dan Castellaneta
More
Features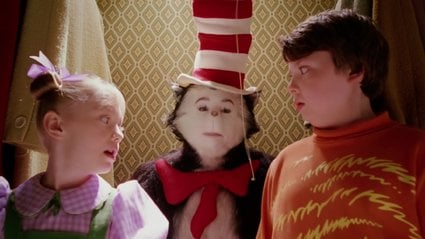 Dr. Seuss' The Cat in the Hat
Dr. Seuss' The Cat in the Hat
Two bored kids' life is turned up-side-down when a talking cat comes to visit them.
1h 21m 42s