Fred Claus
Included with a subscription to:
Of the two Claus brothers, Fred is the troublemaker and polar opposite of his saintly sibling, Nicholas. When Fred's criminal ways finally land him in big trouble, Nicholas bails him out and brings him to the North Pole to work off the debt by making toys. The headaches mount for St. Nick, who not only must deal with his troublemaking brother, but also an efficiency expert who has come to evaluate Santa's operation.
Comedy, Family, Holiday
Maturity Rating
PG Language
QC: 8+ Langage vulgaire
Director

Producers

Jessie Nelson
Joel Silver
David Dobkin
Paul Hitchcock

Cast

Rachel Weisz
Kevin Spacey
John Michael Higgins
Paul Giamatti
Vince Vaughn
Kathy Bates
Elizabeth Banks
Miranda Richardson
Chris "Ludacris" Bridges
Bobb'e J. Thompson
Allan Corduner
Rio Hackford
Trevor Peacock

Writers
More
Features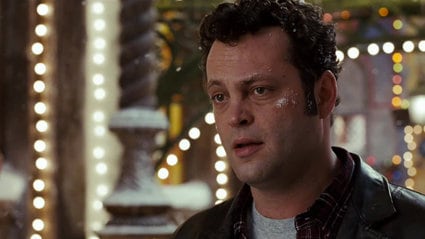 Fred Claus
Santa debates if bringing his troublesome brother to the North Pols is a good idea.
1h 55m 30s