It Follows
2014
18+, V, L, S, N, M
QC: 16+
Included with a subscription to:
Toronto International Film Festival Official Selection. After carefree teenager Jay (Maika Monroe) sleeps with her new boyfriend, Hugh (Jake Weary), for the first time, she learns that she is the latest recipient of a fatal curse that is passed from victim to victim via sexual intercourse. Death, Jay learns, will creep inexorably toward her as either a friend or a stranger. Jay's friends don't believe her seemingly paranoid ravings, until they too begin to see the phantom assassins and band together to help her flee or defend herself.
Horror, Thriller
Maturity Rating
18+ Violence, Language, Sex, Nudity, Mature Themes
QC: 16+ Violence, Langage vulgaire, Sexualité, Nudité, Thèmes pour adultes
Director

Cast

Maika Monroe
Keir Gilchrist
Olivia Luccardi
Debbie Williams
Jake Weary
Daniel Zovatto
Lili Sepe
Bailey Spry
Ruby Harris
Leisa Pulido

Writer
More
Features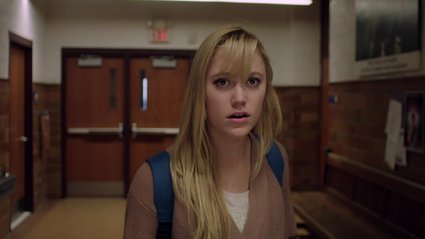 It Follows
A young woman is followed by an unknown supernatural force after a sexual encounter.
1h 40m 9s