Joker
2019
14+, V, L, S, M
QC: 13+
Included with a subscription to:
MOVIES + HBO

(EN)

SUPER ÉCRAN

(FR)
Arthur Fleck (Joaquin Phoenix) ekes out a living as a clown, performing for tourists and children as he dreams of fame as a stand-up comedian like his hero, talk-show host Murray Franklin (Robert De Niro). But people never do what Arthur wants them to do. Isolated, bullied and disregarded by society - life is so ugly that you just have to laugh.
Thriller, Crime, Drama
Languages
English (Original), French
Maturity Rating
14+ Violence, Language, Sex, Mature Themes
QC: 13+ Violence, Langage vulgaire, Sexualité, Thèmes pour adultes
Director

Producers

Todd Phillips
Bradley Cooper
Emma Tillinger Koskoff
Walter Hamada
Aaron L. Gilbert
Joseph Garner

Cast

Joaquin Phoenix
Robert De Niro
Zazie Beetz
Frances Conroy
Brett Cullen
Shea Whigham
Bill Camp
Glenn Fleshler
Leigh Gill
Josh Pais
Rocco Luna
Marc Maron
Sondra James
Murphy Guyer
Douglas Hodge
Dante Pereira-Olson
Carrie Louise Putrello
Sharon Washington
Frank Wood
Brian Tyree Henry
April Grace
Gary Gulman
Chris Redd
Mandela Bellamy

Writers

Todd Phillips
Scott Silver

Executive Producers

Richard Baratta
Bruce Berman
Jason Cloth
Joseph Garner
Aaron L. Gilbert
Walter Hamada
Anjay Nagpal
Michael E. Uslan
More
Features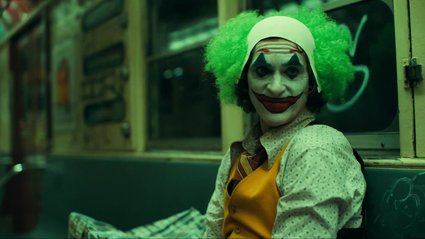 Joker
Arthur Fleck is disregarded and mistreated by society. He embarks on a downward spiral of revolution and crimes to become the Joker.
2h 1m 43s