Locked Down
Included with a subscription to:
Just as they decide to separate, Linda (Anne Hathaway) and Paxton (Chiwetel Ejiofor) find life has other plans when they are stuck at home in a mandatory lockdown. Co-habitation is proving to be a challenge, but fueled by poetry and copious amounts of wine, it will bring them closer together in the most surprising way.
Comedy, Crime, Romance
Maturity Rating
14+ Language, Mature Themes
QC: 13+ Langage vulgaire, Thèmes pour adultes
Director

Cast

Anne Hathaway
Chiwetel Ejiofor
Ben Kingsley
Ben Stiller
Lucy Boynton
Jazmyn Simon
Mindy Kaling
Stephen Merchant
Dulé Hill
Mark Gatiss
Bobby Schofield
Shereen Gray
Anna Behne

Writer

Executive Producers

Alastair Burlingham
Stuart Ford
Steven Knight
Doug Liman
Miguel Palos
Richard Whelan
More
Features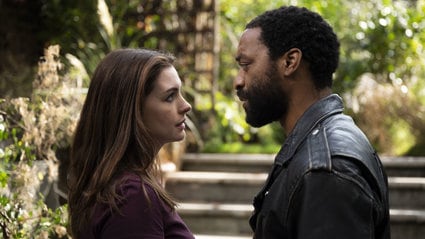 Locked Down
A quarreling couple make peace in order to take advantage of the COVID-19 pandemic and pull off a jewellery heist at a department store.
1h 57m 52s