My Spy
Included with a subscription to:
Nine-year-old Sophie catches JJ, a hardened CIA operative, spying on her family during a routine surveillance operation. In exchange for not blowing his cover, JJ begrudgingly agrees to show the precocious girl how to be a spy. What at first seems like an easy task soon turns into a battle of wits as Sophie proves you don't need much experience to outsmart a seasoned agent.
Comedy, Action
Director

Producers

Peter Segal
Chris Bender
Jake Weiner
Dave Bautista
Jonathan Meisner
Robert Simonds
Gigi Pritzker
Jon Hoeber
Erich Hoeber
Michael Flynn

Cast

Dave Bautista
Kristen Schaal
Parisa Fitz-Henley
Chloe Coleman
Ken Jeong
Nicola Correia Damude
Darrin Baker
Basel Daoud

Writers

Peter Segal
Jon Hoeber
Erich Hoeber
More
Features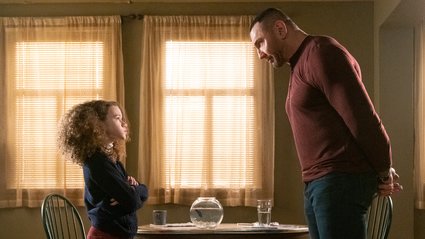 My Spy
A hardened CIA operative finds himself at the mercy of a precocious 9-year-old girl, having been sent undercover to surveil her family.
1h 39m 34s