Path to War
Included with a subscription to:
CRAVE

(EN, FR)

SUPER ÉCRAN

(FR)
As the successor to a martyred president, Lyndon B. Johnson sought to transform America into a "Great Society" of equal opportunity. Instead, he became the symbol for the most unpopular war in U.S. history.
History, Drama, War, Politics
Languages
English (Original), French
Maturity Rating
14+ Violence, Mature Themes
QC: 13+ Violence, Thèmes pour adultes
Director

Producers

Cast

Michael Gambon
Donald Sutherland
Alec Baldwin
John Aylward
Bruce McGill
Cliff DeYoung
Felicity Huffman
John Valenti
Chris Eigeman
James Frain

Writer

Executive Producers

Cary Brokaw
John Frankheimer
Edgar J. Scherick
Howard Dratch
More
Features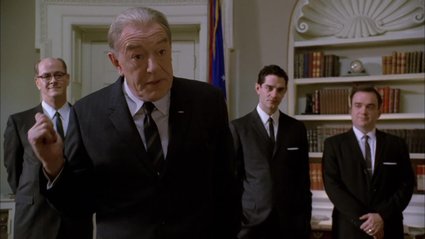 Path to War
Path To War is a powerful portrait of a political leader facing the burden of responsibility as he makes strategic and military decisions.
2h 44m 31s