Real Women Have Curves
Included with a subscription to:
Toronto International Film Festival Official Selection. Ana is an 18-year-old Latina with a bright future ahead of her. But when money for college looks impossible to find, Ana takes a job alongside her sister at a garment factory and encourages them to love every curve of their bodies what makes them different.
Drama, Comedy
Maturity Rating
PG Language, Mature Themes
QC: 8+ Langage vulgaire, Thèmes pour adultes
Director

Cast

America Ferrera
Lupe Ontiveros
Ingrid Oliu
George Lopez
Brian Sites
Soledad St. Hilaire
Lourdes Perez
Jorge Cervera Jr.

Writers

George LaVoo
Josefina Lopez

Executive Producers

George LaVoo
Effie T. Brown
More
Features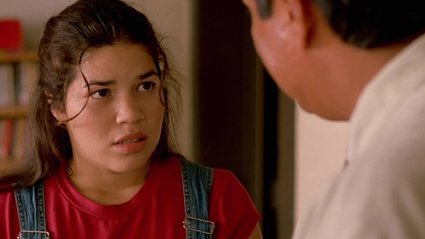 Real Women Have Curves
This is the story of Ana, a first generation Mexican-American teenager on the verge of becoming a woman.
1h 26m 22s