Silver Linings Playbook
Included with a subscription to:
After losing his job and wife, and spending time in a mental institution, Pat Solatano (Bradley Cooper) winds up living with his parents (Robert De Niro, Jacki Weaver). He wants to rebuild his life and reunite with his wife, but his parents would be happy if he just shared their obsession with the Philadelphia Eagles. Things get complicated when Pat meets Tiffany (Jennifer Lawrence), who offers to help him reconnect with his wife, if he will do something very important for her in exchange.
Comedy, Drama, Romance
Maturity Rating
14+ Language, Sex, Nudity
QC: 13+ Langage vulgaire, Sexualité, Nudité
Director

Producers

David O. Russell
Donna Gigliotti
Bruce Cohen
Jonathan Gordon
Bob Weinstein
Harvey Weinstein
George Para
Michelle Raimo
Bradley Cooper

Cast

Bradley Cooper
Jennifer Lawrence
Robert De Niro
Jacki Weaver
Chris Tucker
Anupam Kher
Julia Stiles
John Ortiz
Shea Whigham
Dash Mihok
Paul Herman
Matthew Russell
Cheryl Williams
Patrick McDade
Brea Bee
Regency Boies
Phillip Chorba

Writer
More
Features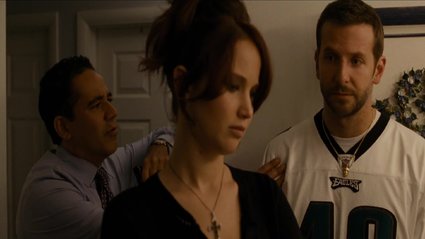 Silver Linings Playbook
Pat, who is sent to a mental health facility after brutally attacking his wife's lover, meets Tiffany in a bid to mend ways with his wife.
2h 2m 17s