The Sting
Included with a subscription to:
Following the murder of a mutual friend, aspiring con man Johnny Hooker (Robert Redford) teams up with old pro Henry Gondorff (Paul Newman) to take revenge on the ruthless crime boss responsible, Doyle Lonnegan (Robert Shaw). Hooker and Gondorff set about implementing an elaborate scheme, one so crafty that Lonnegan won't even know he's been swindled. As their big con unfolds, however, things don't go according to plan, requiring some last-minute improvisation by the undaunted duo.
Comedy
Maturity Rating
PG Language, Mature Themes
QC: 8+ Langage vulgaire, Thèmes pour adultes
Director

Cast

Robert Redford
Paul Newman
Robert Shaw
Eileen Brennan
Charles Durning
Ray Walston
Harold Gould
John Heffernan
Dana Elcar
Jack Kehoe
More
Features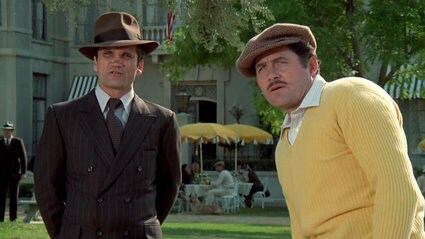 The Sting
To avenge his mentor's death, Johnny recruits a con-man to execute an elaborate scam.
2h 9m 9s