Big Daddy
Inclus avec un abonnement à :
Thirty-two-year-old Sonny Koufax (Adam Sandler) has spent his whole life avoiding responsibility. But when his girlfriend dumps him for an older man, he's got to find a way to prove he's ready to grow up. In a desperate last-ditch effort, Sonny adopts 5-year-old Julian (Dylan Sprouse), (Cole Sprouse) to impress her. She's not impressed ... and he can't return the kid. Uh-oh for Sonny!
Comédie
Langues
Anglais (Version originale)
Cotes de maturité
14+ Language
QC: 13+ Langage vulgaire
Réalisateur

Producteurs

Dennis Dugan
Joseph M. Caracciolo
Allen Covert
Sidney Ganis
Jack Giarraputo
Michelle Holdsworth

Acteurs

Adam Sandler
Joey Lauren Adams
Jon Stewart
Dylan Sprouse
Cole Sprouse
Josh Mostel
Leslie Mann
Allen Covert
Rob Schneider
Kristy Swanson
Joseph Bologna
Peter Dante
Jonathan Loughran
Steve Buscemi
Tim Herlihy
Edmund Lyndeck
Larkin Malloy
Samantha Brown
Neal Huff
Geoffrey Horne
Greg Haberny
Jacqueline Titone
George Hall
Peggy Shay
Alfonso Ramirez
Salvatore Cavaliere
Kelly Dugan
Jared Sandler
Jillian Sandler
Helen Lloyd Breed
Chloé Hult

Scénaristes

Dennis Dugan
Steve Franks
Tim Herlihy
Adam Sandler
Plus
En vedette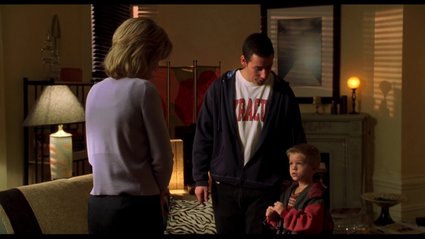 Big Daddy
A lazy law school grad adopts a kid to impress his girlfriend, but everything doesn't go as planned and he becomes the foster father.
1h 33m 14s