Predator
Inclus avec un abonnement à :
Dutch, a soldier of fortune, is hired by the U.S. government to secretly rescue a group of politicians trapped in Guatemala. But when Dutch and his team, which includes weapons expert Blain and CIA agent George, land in Central America, something is gravely wrong. After finding a string of dead bodies, the crew discovers they are being hunted by a brutal creature with superhuman strength and the ability to disappear into its surroundings.
Action, Sci-Fi, Aventures
Langues
Anglais (Version originale)
Cotes de maturité
14+ Violence, Language
QC: 13+ Violence, Langage vulgaire
Réalisateur

Producteurs

Joel Silver
Lawrence Gordon
John Davis
John McTiernan
Jim Thomas
Laurence Pereira

Acteurs

Jesse Ventura
Bill Duke
Carl Weathers
Kevin Peter Hall
Elpidia Carrillo
Arnold Schwarzenegger
Shane Black
R.G. Armstrong
Sonny Landham
Richard Chaves

Scénaristes

John Thomas
John McTiernan
Jim Thomas
Plus
En vedette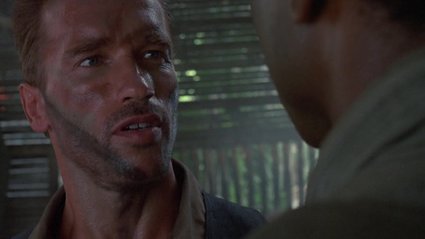 Predator
A team of mercenaries become the prey of extra-terrestrial warrior.
1h 46m 32s