Two Weeks Notice
Inclus avec un abonnement à :
Dedicated environmental lawyer Lucy Kelson (Sandra Bullock) goes to work for billionaire George Wade (Hugh Grant) as part of a deal to preserve a community center. Indecisive and weak-willed George grows dependent on Lucy's guidance on everything from legal matters to clothing. Exasperated, Lucy gives notice and picks Harvard graduate June Carter (Alicia Witt) as her replacement. As Lucy's time at the firm nears an end, she grows jealous of June and has second thoughts about leaving George.
Romance, Comédie
Langues
Anglais (Version originale)
Cotes de maturité
PG Language
QC: 8+ Langage vulgaire
Réalisateur

Producteurs

Marc Lawrence
Sandra Bullock
Mary McLaglen
Bruce Berman

Acteurs

Sandra Bullock
Hugh Grant
Alicia Witt
Dana Ivey
Robert Klein
Heather Burns
David Haig
Dorian Missick

Scénariste
Plus
En vedette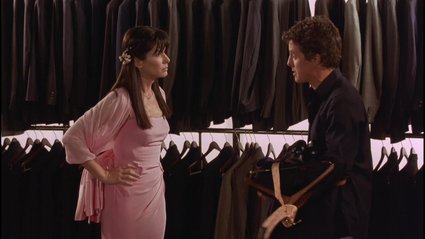 Two Weeks Notice
A lawyer decides that she's taken for granted by her boss, so she walks out on him.
1h 41m 2s