Amanda Seales: I Be Knowin'
Inclus avec un abonnement à :
Comedian/actor Amanda Seales, well-known for her role in Insecure, stars in her first HBO stand-up special, taped in front of a live audience at the Edison Ballroom in New York City. Amanda shares from her memories of romance in high school up to what it means to be a 30-year-old black woman in America today.
Comédie
Langues
Anglais (Version originale)
Cotes de maturité
18+ Language, Mature Themes
QC: 16+ Langage vulgaire, Thèmes pour adultes
Réalisateur

Acteurs

Scénariste

Producteur exécutifs

Amanda Seales
Jesse Collins
Plus
En vedette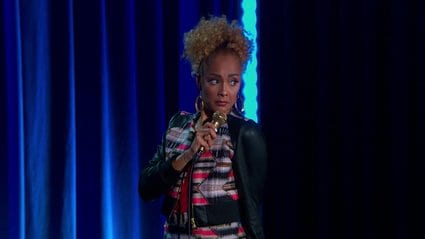 Amanda Seales: I Be Knowin'
Amanda Seales: I Be Knowin'
Comedian Amanda Seales (Insecure) makes her HBO stand-up debut in the hour-long special.
59m 42s