Lil Rel Howery Live in Crenshaw
Inclus avec un abonnement à :
Filmed in front of a live audience at Susan Miller Dorsey Senior High School in Los Angeles, Lil Rel Howery: Live in Crenshaw features Howery's hilarious, down-to-earth storytelling as he talks about returning to his hometown of Chicago for his uncle's funeral, being told that it's "his turn" to pay for the funeral since he's so successful, and the experience of taking a bus to Mississippi with his grandmother. He also touches on such subjects as: the frustrations of automated customer service reps, getting asked if he knows famous people, the things he's learned about women from having a daughter, turning 40, and more.
Comédie, Humoriste
Langues
Anglais (Version originale)
Cotes de maturité
18+ Language, Mature Themes
QC: 16+ Langage vulgaire, Thèmes pour adultes
Réalisateur

Producteur

Acteurs

Scénariste

Producteur exécutifs

Jerrod Carmichael
Bo Burnham
Chris Storer
Jeff Tomsic
Lil Rel Howery
Plus
En vedette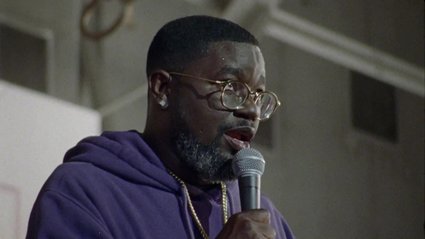 Lil Rel Howery Live in Crenshaw
Lil Rel Howery Live in Crenshaw
Comedian/actor/writer/producer Lil Rel stars in his first HBO stand-up comedy special, filmed before a live audience in Los Angeles.
1h 4m 10s